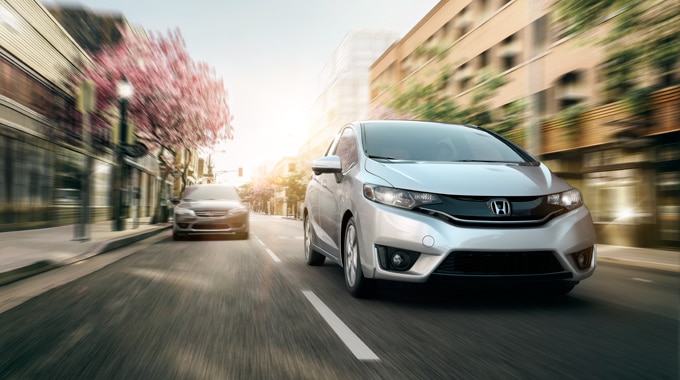 "FITs" Anywhere and Anyone 
4/8/2015 - A personal review of the new 2015 Honda Fit by Zoe Robinson
When I was just learning how to drive in Tampa, Florida, I drove my parents 1991 Chevrolet Tahoe. In comparison to my 15 year old self, who never grew taller than 5'3", that SUV is a tank (let's not get into the time I drove my dad's Hummer H2 when I was 16!) I had pulled myself as close as I could to the steering wheel, but I still had to sit on the edge of the seat and use my tip toes to touch the pedals. Even years after they started making vehicles more adjustable for people of different statures I still had to sit too close to the air bags with the steering wheel almost touching my lap just so I could see over the dash. 
Now, I drive a 2003 Honda Accord EX-L coupe that I bought right here at Southern Motors Honda when my beat up old 1994 Chevrolet S-10 pickup truck overheated for the last time on Truman Parkway on the way home from work one day. My car has done nothing short of living up to the Honda name, but I only have one issue. The steering wheel sits about one inch from the top of my legs, and if I move it I can't see over the top of it. 
I got the pleasure of driving one of the new 2015 Honda Fits recently, and I have to admit how pleasantly surprised I was by it. From the outside looking in, the Fit looks very compact, and it is! But once you slide in those seats you see just how spacious it can be. I pulled the seat up expecting to knock into the steering wheel, as usual, but I didn't! I ran through my mental check list when driving a new vehicle. Can I reach everything? Check. Can I see over the dash? Check. Is the steering wheel not physically touching my lap? Check. Wait, that is way more than an inch! AND I can see over the top?! Ecstatic over such a little thing, I looked to the back seat to see the back seat appears to be almost bigger! Of course I had a field day playing with the HondaLink system, talking to my boyfriend through my car, and playing music through the blue tooth function on my phone. I still haven't quite mastered the HondaLink, as this is almost a culture shock to me after driving older cars my whole life, but if I trade in my Accord my new one has to have it! 
On the other hand, my boyfriend is 6 foot tall. He sits down in the passenger seat, and the first words out of his mouth were, "Wow, this is roomy! I really didn't expect that." He then continued to play with the HondaLink system out of fascination as well. I showed him the lane change camera, which he ooed and awed at. I think he didn't want to give it up. 
My favorite part was I could park it in tight spaces. We have limited parking at out apartment in Tybee Island, GA, but there is one free space right on the road. Sometimes when I park my Accord there I have to hug up to the trash cans and the landlords RV, but the Fit slides right in with plenty of space. Honestly, I could probably park sideways and fit another Fit in there! 
Want to see a more in depth personal review of the 2015 Honda Fit? Check out Torque News!